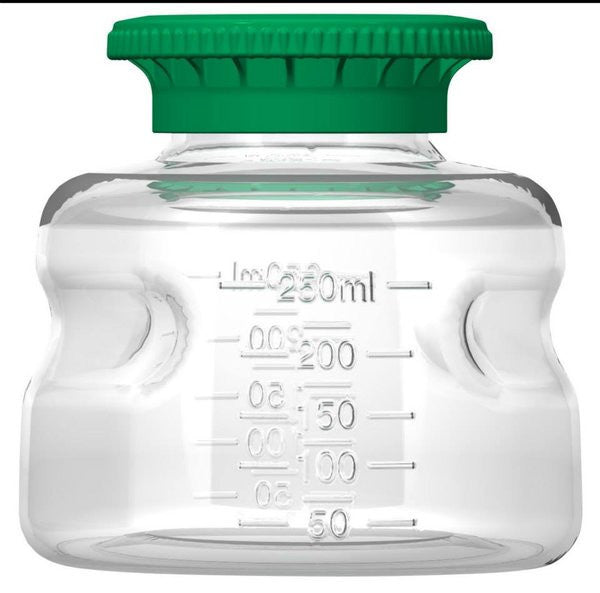 250ml PETG Media Bottle, Sterile
---
PETG Media Bottle with SECUREgrasp Cap, Non- Sterile, 24/case
Foxx Life Sciences' non-sterile PETG media bottles have been designed specifically for Life Science researchers to store common solutions such as tissue culture media, serum, and buffers. Our PETG bottles are optically clear and offer better impact resistance than polystyrene storage bottles. The bottles are gas impermeable, and are an ideal low cost choice for general laboratory solution storage. They are also designed to handle full vacuum and can be used with Autofil® filtration system.
Each Autofil® bottle has features that improve the handling of the bottle, especially when the bottle is wet. The narrow bottle shoulder, combined with the molded finger grips, improves the ability to securely grip the bottle with gloved hands. Our patented, SECUREgrasp™ bottle cap enables easy handling and carrying of the bottle. The innovative cap also allows for easy uncapping, tightening, and bottle stacking and provides a large surface for bottle labeling
Foxx Life Sciences' Autofil® is manufactured in ISO 13485 clean room in North America.

Height: 3.42" (86.9mm)

Diameter(max): 3.63" (92.1mm)

Volume: 250ml

Cap Size: 45mm

Bottle Material: PETG

Cap Material: Polypropylene

Click here for a full list of our product datasheets!
---
Share this Product
---
More from this collection