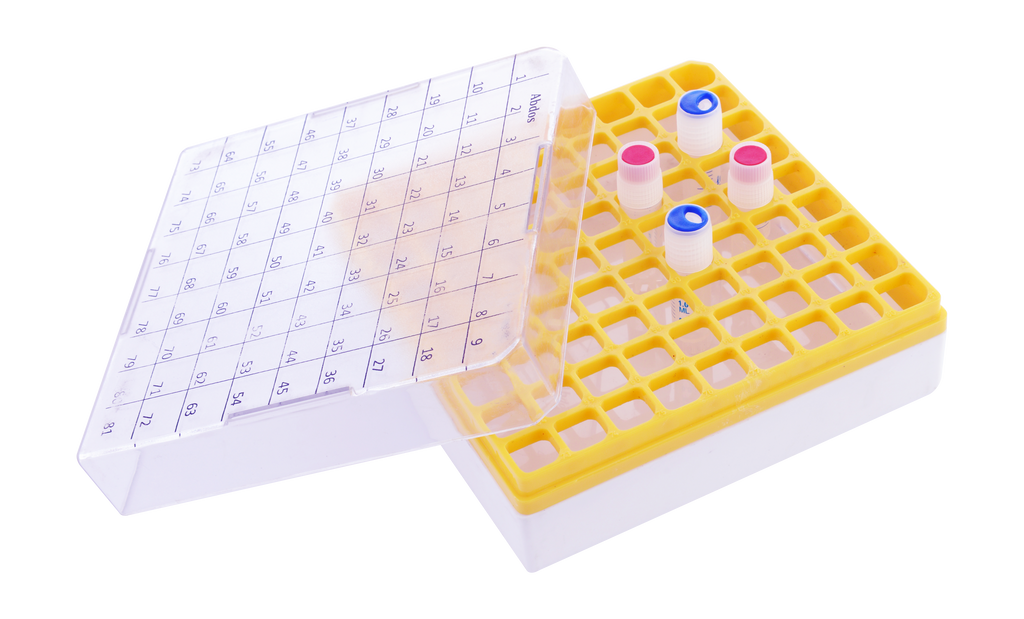 Abdos Cryo Box, Polycarbonate (PC) for 1.0 and 2.0ml, 81 Places in a 9 x 9 Array, Blue, 4/CS
---
Manufactured from strong, autoclavable Polycarbonate (PC), Cryo Boxes are designed to be used at temperatures between -196°C to 121°C. These boxes create a small, space-efficient storage system while the specialized venting in the base and lid ensures a smooth flow for vapors and consistency in cooling. The Cryo Box can be used in the gas phase of liquid nitrogen with appropriate safety procedures in place.
• Transparent lids permit viewing of contents as well as have a numbered grid for sample identification.
• Frosting on the surface of the tubes allows for ease of labeling/writing
• The dimensions of the Cryo Box are compatible with vertical, horizontal, and drawer-style freezer racks.
Specifications

Material: PC
Color: Blue
Min. Temp.: -196°C
Max. Temp.: 121°C
Sterilization by Radiation: No
Material Transparency: Transparent Lids
Autoclavable: Yes
Batch Certificate Included: Yes
Complies with: ISO 11137
ISO Standard: 9001, 13485, 14001
Shelf Life: 3 Years
Animal-Free: Yes
Documentation
Coming Soon
Videos
---
Share this Product